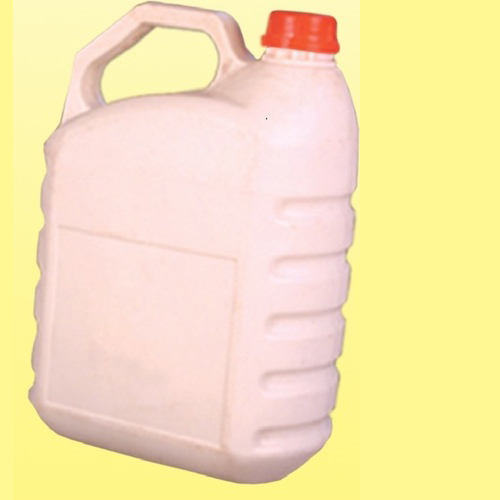 Product Description
3.5 LTR Plastic Jerry Can is an advanced container, suited for an efficient fuel transportation. It can perform several functional advantages over preceding fuel transport containers. It has small spout which enables the users to pour the liquid without the need of a funnel, opener, or extra tools. 3.5 LTR Plastic Jerry Can allows for a quick and efficient refueling under the most unfavorable conditions and lessened spillage. This is a robust liquid container. We ensure that we confirm to all the industry recommended norms in manufacturing our range of plastic cans, henceforth, we are accredited and acknowledged by our numerous clients.
We manufacture 3.5 LTR Plastic Jerry Can, using superior grade plastic, which ensures the durability and reliability of our packaged products. These are extensively used in packing liquids such as agro-chemicals, household cleaners, pesticides etc. Further, our products are available in various capacities & shapes. We offer wide array of 3.5 LTR Plastic Jerry Can that are made from premium quality pvc materials that offer long life and durable body to them. These are available in different sizes, shapes and designs that can satisfy, varied needs of our clients make them the best storing container.
Being an affluent firm in the domain, we are engrossed in manufacturing, exporting and supplying an extensive array of 3.5 LTR Plastic Jerry Can. Our experienced professionals make use of optimal grade plastic to manufacture this can in compliance with set industry norms. Offered range of can is widely demanded in shops for keeping petrol, edible oil, chemicals, paints, water, etc. Additionally, our clients can get this 3.5 LTR Plastic Jerry Can from us in varied capacities at economical rates.
Features of 3.5 LTR Plastic Jerry Can:
Unbreakable
Leakage proof
Easy to carry
Crack resistance
FAQs of 3.5 LTR Plastic Jerry Can
How long does water rearward in a plastic jerry can?
How long could I at any point store savoring water a Plastic Can? Drinking water can be put away in a Plastic Water Can for as long as a half year. Guarantee the actual compartment is put away in a cool dull spot to limit openness to daylight and intensity.
What is unique about jerry jars?
A gasket made the mouth watertight. An air-breathing cylinder from the spout to the air space kept the pouring smooth. Furthermore, most significant, the can's inside was fixed with an impenetrable plastic material created for the inner parts of steel lager barrels. This empowered the jerrycan to be utilized on the other hand for gas and water."
What plastic is utilized for jerry jars?
Current jerry jars are for the most part made utilizing HDPE (high-thickness polyethylene) plastic, which is hearty and hardwearing, making it ideal for moving synthetics. Pay special attention to jerry jars that are UN Affirmed and food grade supported assuming you are hoping to bundle both of these sorts of items.
What number of jerry jars would you say you are permitted?
A vehicle can save to 30 liters of petroleum spread across two compartments, meaning you can top off two jerry jars all at once at the siphons on the off chance that you wish to do as such.
For what reason is it called jerrycan?
The name of the jerrycan alludes to its German beginnings, Jerry being shoptalk for Germans. The plan was figured out and in this way replicated, with minor alterations, by the Partners during WWII.
Enter Buying Requirement Details
Other Products in 'OIL & GHEE CONTAINERS' category